Couple Escorts: Liven up Your Relationship!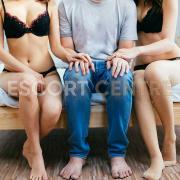 Has your intimate life lost its shine? Are you and your partner looking for a new way to revive the spark of lust? Well, then, couple escort dating might be just the thing for you! Dating a couple's escort is one of the top services offered by high-class escort agencies, mainly intended for couples who are curious about the perks of dating a professional.
On the topic of perks, couple escort dating is a fulfilling experience, intended for all curious couples who'd love some extra company!
Are you and your partner keen on switching things up, intimacy-wise? Great, here is why booking a couple's escort might be the answer you have been waiting for!
1. You Will become More Open
When in a long-term relationship, things can get blurry over time, especially in being open with your partner. Because of that, an experienced third party, a couple's escort, can give you a fresh perspective on honesty, communication and bonding.
A couple's escort is always ready to hear out both parties and understands where both partners' needs match and mismatch.
2. The Only Private Three-way Experience You Can Have
A couple's escort stands by her reputation and will ensure your privacy and discretion are intact throughout your dates. Sharing your fantasies with a couple's escort is a huge plus and much easier, as professional escorts have plenty of experience, especially in escaping monotony.
And now, with a couple's escort, you can have plenty of fun in the bedroom, and rest assured that, whatever happens, your tryst will never leave those four walls.
3. Double the Attention
The greatest thing about dating a couple's escort is that the experience is intended for both partners. A couple's escort is trained in providing all sorts of services to both men and women, and know how to do it smoothly and elegantly. Whether you need someone to party with, travel with, or dine with and talk to, a couple's escort will provide it.
Sometimes, men are more into the sensual side of an escort, whereas women tend to look for that connection, but no worries, a couple's escort has plenty of goods for everyone's taste.
4. She Won't Cross a Line
The one thing you can be certain of when dating a couple's escort is that she will never come between you and your partner. In essence, you book a couple's escort to work on your relationship, and your date will always respect those boundaries and, therefore, provide joint service.
If you are worried about jealousy, the best way to deal with the issue is to talk it out with your partner and be sure you are on the same side when it comes to dating a professional escort.
Source: https://www.whatshesaidblog.com/can-escorts-spice-up-your-couple-sex-life/
Beat Your Boredom BY Visit Our Weekly Blog For News, Tips & Advise!