Escort Etiquette: Golden Rules for Your First Outcall!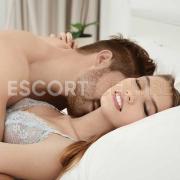 Private outcalls are perhaps one of the most used services in escort dating. Private outcalls usually allow you to meet your chosen escort at a place of your choosing. This can be your hotel; it can be your home, or it can be an out-of-town resort. Nevertheless, when you book a private outcall with an escort, there is a certain escort etiquette that goes with the experience.
Whether you are new to escort dating or an experienced client, respecting these limitations will help you have a more fulfilling and satisfying experience.  
1. Don't Be Nosy
One of the things no escort wants to do on a date is to justify herself for what she does. Many escorts are highly-educated and have other careers, too, but that doesn't make their business your business. Simply, while you can ask your escort questions about herself, prying into her life or being judgmental is a big no-no. And don't get me talking about going through her things. 
2. Don't offer them a Ride
By offering your escort a ride, you are just putting her in an uncomfortable position where she has to say no because those are the rules. Escorts usually arrive to the desired location with a designated driver, and almost always get picked up by them once the date finishes. Even if that is not the case, an escort will always choose to leave with a taxi instead of accepting a ride by her client.
It is nothing to take personally, really, it is just about keeping things professional and low-key.  
3. Don't Be Condescending
Trying to get your escort to rethink her career, or mocking her profession, are one of the worst things to do on a date. At the end of the day, your escort is providing you with a service that you asked for, and she did her best job to please you. So, why make her feel bad at all?
And let's be honest, it not your place to judge her or be suddenly critical and belittling of your escort's career choice. Nope, you are here to have a great date together and keep it casual. No opinions needed.   
4. Asking for Something Extra
While some escorts are open to doing a little something extra for your pleasure, they will likely charge you for it, and that is the way things go. Trying to sweet-talk your date into 'letting one slide' is a bad trick and will only turn your date sour. Bargaining prices will also do you no good, as you have already known the prices and services before booking your date…and agreed to it. Be a gentleman. 
For more weekly blog vist the weekly blog at Escort Centre.