6 Reasons Why You Need to Use Sex Toys!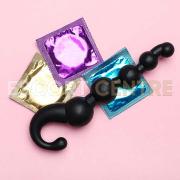 Even though the sex toy industry is one of the largest growing ones, it seems as though people haven't quite understood the benefits of using sex toys regularly. That is a real shame, as sex toys make one of the best additions to your intimate adventures.
Versatile, safe to use, and simple to manoeuvre, sex toys are intended for both the pleasure of men and women, whether used individually or together.
Read on as we discuss 6 key reasons why sex toys are super-good for your intimate life.
1. A Stronger Pelvic Floor
With age, our reproductive muscles loosen up, but luckily, sex toys can help solve the issue. Namely, sex toys, especially those who provide pulsing or vibrations help activate your pelvic floor and ensure you are in good sexual health at all times. The more dynamic your use of sex toys is the better orgasms, erections and sexual pleasure you'll have.
2. Heals and Flows
Sex toys can be a healing method if you have had a surgery or intervention in that area. As vibrating toys help tone and sharpen the penile muscles, using them will definitely accelerate your healing. In addition, sex toys activate all body tissues and vessels, which for you means a greater blood circulation. Without trying to state the obvious, that also means a stronger erection.
3. Newness and Freshness
If your intimate life has been missing out on the action, sex toys can help it become more interesting. Sex toys are very creative and can be used in various ways, so enrich your sex-box collection and get playing between the sheets.
4. Stress, Who?
Interestingly enough, sex toys make great stress and anxiety reliever. As your blood flows faster, it is able to shake off stress more efficiently. As sex toys are your fastest way to an orgasm, it is good to know that orgasms are an excellent stress repellent. And because your body produces extra endorphins and adrenaline during an orgasm, stress will likely be the last thing on your mind.
5. Sexual Satisfaction
Everyone worries if their sex lives have enough content and quality to them. Whether worried or not, sex toys will always come in handy when you need a different layer of pleasure. Experimenting with sex toys you haven't tried can be a revolutionary experience and teach you the many shapes and forms of sexual arousal.
6. A Self-Confidence Boost
Last but not least, by experimenting with sex toys, you can become more assured of what you want in bed. In time, sex toys will help you let go of your reservations and make you a more determined, innovative and devoted lover.
Source: https://thefrisky.com/reasons-why-to-use-sex-toys/
For more weekly blog vist the weekly blog at Escort Centre.